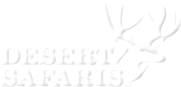 Pronghorn Antelope Hunting in New Mexico
You don't need to leave the United States to for an exhilarating hunting experience. New Mexico is a special place to visit, being able to hunt for the fine Pronghorn Antelope while visiting this amazing state just sweetens the deal.
Our operation has access to the foremost antelope hunting grounds available in with 107,000 private acres of prime real estate. Clients can design their dream trip by working closely with our guides and customer service agents. Accommodations include rustic camp sites as needed as well arrangements in town. There is even an on-site taxidermist for fleshing and preparing your trophy! The pronghorn is a real western classic and has been generally accepted as one of the fastest land mammals in North America. This animal is an essential addition to every hunter's collection.
When you book with us, you are guaranteed the experience of a life time. In fact, we can proudly say that our clients have a 100% success rate.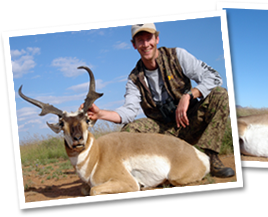 Pronghorn Antelope
When you go Pronghorn antelope hunting in New Mexico you can expect to see an abundance of the quintessential prong bucks. Many of our clients can expect to come away from this area of New Mexico with a Boone and Crockett record entry. The pursuit of this quick-footed beast takes some work, but once you've bagged your trophy you'll realize the chase was well worth it. With our guide expertise, quality of the lands, and supreme stock, we guarantee our clients will not come away disappointed.
The pronghorn buck photographs and shows extremely well. When your friends and co-workers see pictures of you with this magnificent animal they'll be itching to follow your lead. The pronghorn is an elusive animal, not actually an antelope and not a deer either. The pronghorn is the only surviving member of the family Antilocapridae, so it's a unique animal indeed. This curious and quick-footed mammal has a distinguishable white fur across the throat, breast, sides, belly, and rump. The taste of the pronghorn is said to mirror that of venison with a little extra kick of spiciness.
You can be rest assured when pronghorn antelope hunting in New Mexico, you're not only pursuing a beautiful trophy for your wall, but also a number of tasty meals for your freezer.